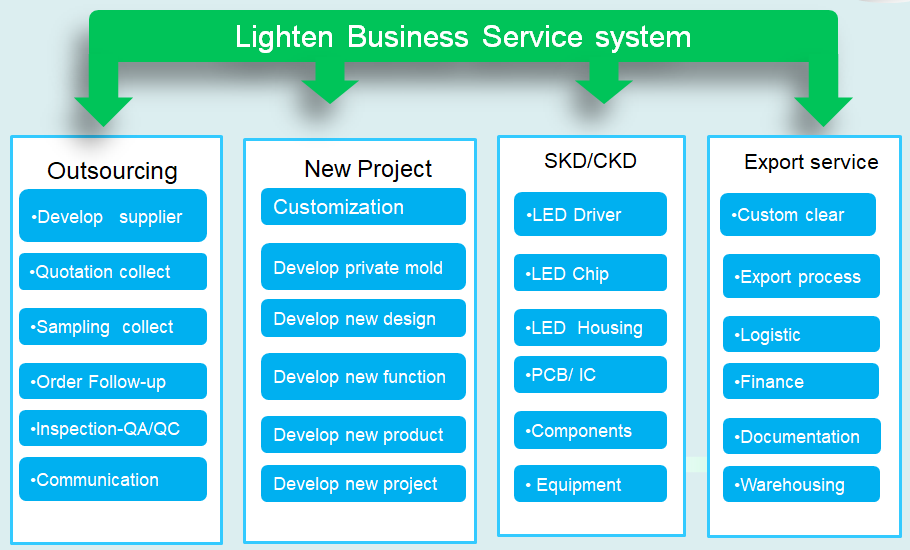 Devoted itself to the international business for decades, we have accumulated mass experience and resource in this filed, so we integrate these resource, and extend to international business service as following-------
A) Outsourcing solution
Help search and audit factories, develop and manage supplier chain, quotation collection and comparison, sample and order follow-up, QC, QA etc.,
B) Customization on new Product & Project (OEM/ODM)
Set project team to help clients to develop customized product and project, make tailored private mold, new design and function.
C) SKD & CKD solution
In response to the national "One Belt, One Road" initiative and customer needs, we provide local manufacturing services, namely SKD/CKD solutions, to help provide a full range of accessories, manufacturing technical support, process training, and even help customers to purchase complete production equipment and test equipment.
D) Export service
At requested by some overseas clients, we help them on export proceedure in China, documentation, customs clearance in both China and destination, Logistic service, Finance service.
2, Our competitive advantages:
1) Professionalism and experience
Most of our business service staff work in this field for over 10 years on average, they are actually the expert in the industry, and all originate from the most international businesses, TOP 500 in the world. "Customer Orientation, establishing prestige through quality" becomes the operational objective that we always insist on.

2) Powerful customer network
Experience, professionalism and integrity have earned Lighten its reputation among worldwide customers, and now we enjoy good relations with almost 500 customers, over 50 countries around the world. To save sourcing cost, some customers willingly entrust us to help source, visit a their suppliers, negotiate, audit factories and inspect the goods etc., and we strive to find quality-conscious, cost-effective manufacturers to match the production needs.

3) Numerous supplier database
Thanks to our win-win and professionalism, we achieve access to a growing network of over 10,000 suppliers in China,keep good contacts with most of them. In fact, for almost any country, any type of LED products, we know most Top 500 exporters from China, as well as their export quantity, Value and average price. So we can help our customers find the most suitable and competitive suppliers very simply and efficiently.